Ideas to Buy a Stylish Coat from Custom clothing manufacturer
Winter is incomplete without a warm coat. You will need special wool coats for colder months in areas with severe weather. Fortunately, it is easy to buy a stylish coat from custom clothing manufacturers. Check the material of the jacket because it should keep you warm. Try to buy an elegant piece with wind flaps and waterproof zippers. Select a jacket that makes you look stylish. Moreover, coats are available with some unique features, such as drawstrings, removable hoods, etc. If you want to buy a perfect coat, here are some tips to make your work easy.
Buy a Coat with Waterproof Shell
During the winter season, your body needs a waterproof coat. Remember, rain and snow can damage your jacket. Make sure to buy a coat from high-quality clothing manufacturer with an outer waterproof shell. Before purchasing a coat, check its label to ensure its material is waterproof. Try to buy a jacket with many waterproof layers. It will give you better protection against water.
Remember, a material similar to raincoat may block out water. You will need a coat with insulation, such as leather and wool coats. It is essential to survive in cold areas.
Unitex is a custom clothing manufacturer who provides winter wool coats in different styles. And they have a professional working facility for the clothing manufacturing like wool coat and faux fur coat making as below photo: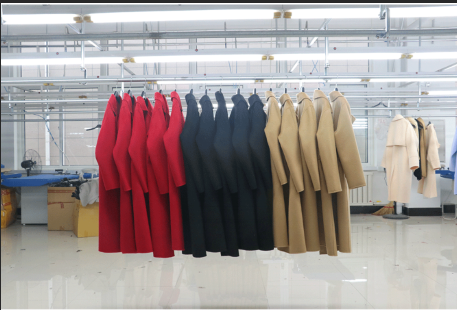 Consider the Type of Insulation before place order to the custom clothing manufacturer
Three types of insulations are available for winter coats, such as pile, synthetic, and down fabric. Select insulation that can keep you warm in cold months.
Down: It is a classic insulator to provide warmth in the colder months. Unfortunately, it can't hold up moisture. If your environment has lots of precipitation, down may not be the right choice.
Synthetic Fabric: It is suitable for moisture, but don't last long as compared to other options. Synthetic fabric can quickly wear down.
Pile Fabric:It is similar to the wool of sheep. It may last longer as compared to synthetic fabric because of its water-resistant qualities. If you are looking for thick material, you must try something different.
Check Cuffs and Zippers
Your coat must protect you from cold, so examine cuffs and zippers to ensure their material. Try to buy a jacket made of high quality, durable material. Sometimes, you will get a coat with waterproof material, but it doesn't have a zipper.
Ensure the presence of a waterproof zipper by checking its label. If you need a Parka, you must ensure a dual zipper for extra warmth. Choose a coat with tight cuffs. Tight cuffs offer added protection from snow and rain.
Select Your Material
You can buy a stylish coat for different materials. Feel free to select a solid material after considering your personality and sense of style. If you need durability and style at the same time, consider leather coats. A leather coat can be a suitable option for different events. For a casual look, you can buy suede.
Wool coats are durable and available in different stylish cuts. These coats are available in different colors, so wool can be an excellent choice to buy complementing jackets. Moreover, cotton coats look similar to wool, but they are suitable to wear in the rain. If you are looking for a vintage style, buy a faux fur coat.
Select a Suitable Style
Do you want a slimming, long coat? A trench coat can be a good option. These are lightweight and water resistant. You can wear these coats with different outfits. If you need a coat for every season, trench coat may be a suitable choice. Feel free to wear it at different temperatures.
If you are looking for a classic coat, invest in pea coats. These are made of high-quality materials. Buy a dual breasted coat to get added warmth. Remember, pea coats are not long like trench coats. If you are living in icy areas, try to avoid these coats.
A traditional parka is another option for the lovers of classic cuts. This stylish coat can be a good choice for cold areas. With its relaxed style, you will feel more comfortable in it. Try to buy parkas with looser fitting.
Do you know military jackets are equally stylish for both women and men? If you need something between a pea coat and a parka, military jackets can be a suitable choice. These can keep you warm and stylish at the same time. With double-breasted closure, you will get extra warmth with these jackets.
Special Features in a Coat during communications with the custom clothing manufacturer
A coat may come with numerous extra features, such as a removable hood. For winter coats, detachable hood can be a great choice. A canopy can increase the versatility of your jacket. Moreover, some coats come with stylish extra. These must add extra warmth and aesthetic appeal to your coat. Things, such as fleece-lined pockets, fur ruffs, and drawstrings can add extra warmth.
Some coats are available with storm flaps. These flaps can cover zippers. You will need this feature if you are living in an area with heavy winds. Remember, winds may cut your zipper and make you cold. To avoid this situation, a wind flap is necessary for your coat.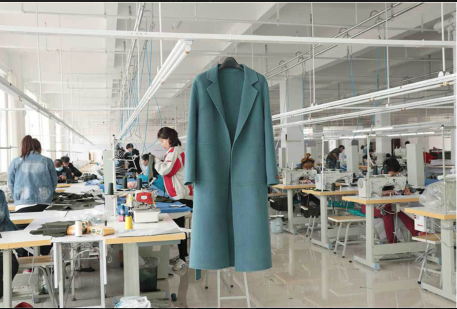 Size of Winter Coats
Outerwear should be one size bigger than your innerwear. This rule is essential for men to follow. If you a coat is snug with an underneath sweater or a blazer, you must buy a bigger size. Sleeves of a bigger jacket can be long, so feel free to get them altered.
If you have to wear a coat as a part of your dress code, you can select natural animal hair or cashmere. Wool may not work in chilled areas, so select convertible options, such as inner jacket, hidden hood, or a vest. Check internal and external pockets. Ask for additional buttons while buying a coat.
Numerous stores supply extra buttons upon demand. You will need outerwear buttons if you want to keep a coat for many seasons. Buy camel and white coats because these colors always look fresh in winter. To save money, start your shopping early. Coats can be expensive during the peak winter season.
At last, if you are looking for a custom clothing manufacturer or private clothing manufacturer for small orders, you can contact Unitex for the clothing manufacture jobs. Unitex is a clothing manufacturer in china who are especially good at merino wool clothing manufacturer.